Reverse Dutch Weave Stainless Steel Wire Mesh
Quick Details:
Usage:Filters ,sieve,chemical industry, mine industry, paper-making , etc

Material: SS 201,202,304,304L, 316,316L, 321, 430,ect

MOQ: 1 roll

Woven style: Recerse Weave

Mesh 72×15-260x40mesh

Diameter:0.45×0.55-0.15×0.25mm

Roll Width: 97mm,120mm,127mm,133mm,150mm,156mm,280mm and 400mm, etc.

Roll Length:10-30m

Packaging Details: inner kraft paper, outside plastic cloth, put into wooden pallet or case

Delivery Time: 5 days for stock material
DETAIL INFORMATION

Hebei Hightop Metal Mesh provides customized wire configurations to meet client's needs. Micron-grade wire is used to create fine mesh filtering cloth for:
High tensile warp wire for the plastic extrusion application (PP, PE, ABS, PS, PMMA)
Plasma and laser cuts for prevention of fraying of the wire's edges
Use for auto-screen changers tracking after slitting
Stainless Steel Reverse Plain Dutch Weave Wire Mesh (RPD)
The Reverse Plain Dutch Weave makes use of two different sizes of wires in weaving. The smaller wires are warped against a large shute wire and woven as closely as possible to create a finer and tight mesh cloth. The larger wire is used to strengthen and support the whole mesh.
Stainless Steel Twilled Reverse Dutch Weave Wire Mesh (TRD)
The Twilled Reverse Dutch Weave on the other hand makes use of the Plain Dutch and twill weaving to create a fine mesh cloth. The fine wires are tightly woven together making this ideal for filtration of gas and other liquid applications. Possessing high resistance to corrosion and high temperature, the Reverse Dutch weave wire mesh is the ideal filtering mesh, with smooth surface and resistant to deformation and hardness. It is one of the best meshes for industrial applications that require separation of liquid and slurry matter.
Width: 97mm, 120mm, 127mm, 130mm, 133mm, 150mm, 156mm, 280mm and 400mm, etc.
Length: 10m – 30m;
Material: SS201, SS302, SS304, SS304L, SS316, SS316L, etc.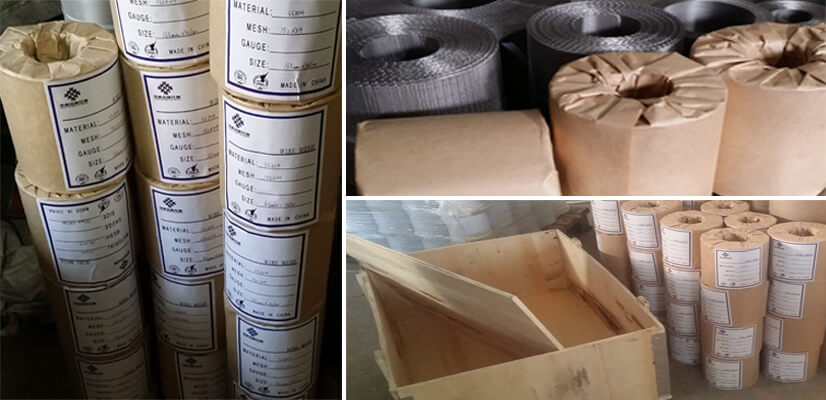 Reverse Dutch Weave Stainless Steel Wire Mesh Specification
Stainless Steel Automatic Belt Type Fitter Saeen
Mesh count
Wire dia.(mm)
Mesh thickness(mm)
warp
weft
warp
weft
72
15
0.45
0.55
1.75
120
15
0.35
0.45
1.25
132
17
0.32
0.45
1.20
150
17
0.30
0.45
1 20
152
24
0.27
0.40
1.05
152
30
0.25
0.30
1.00
170
17
0.27
0.45
1.17
260
40
0.15
0.25
0.65