Fine Copper Wire Mesh Roll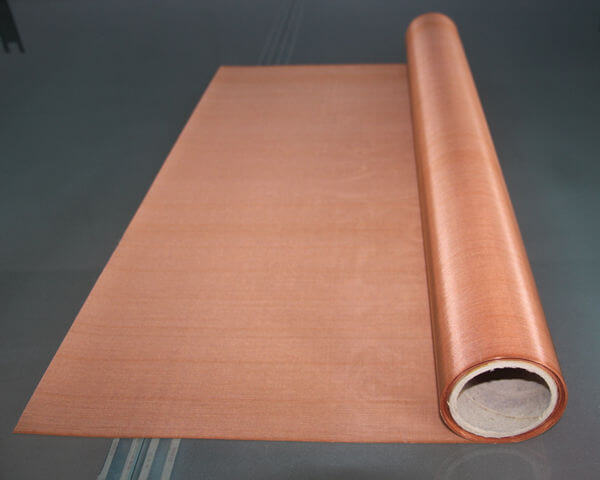 Fine Copper Mesh Screen
Copper Wire Mesh Screen Specification
Material: Copper Wire
MOQ: 1 roll
Woven style: Plain and Twill Weave
Mesh: 4-200mesh
Diameter: 1.6-0.12mm
Roll Width: 0.6-2.9m
Roll Length: 10-100m
Packaging Details: inner kraft paper, outside plastic cloth, put into wooden pallet or case
Usage: shielding and earthing in telecommunication joints and others in industry.
Delivery Time: 5 days for stock material
WOVEN COPPER MESH SCREEN
Copper wire mesh screen is made of pure copper, copper has excellent electrical conductivity, thermal conductivity and ductility, it is one of the popular metal products because of its super electroconductivity malleability and flexibility making it the ideal material for electronics, electric power, communications industry and many other industries. Its reddish-orange color also makes it an ideal choice in the architectural industry.
The weaving method of woven copper mesh screen is generally plain weave or twill weave, and the mesh count can be up to 200 mesh/linear inch, which can be used in various industries. The standard length of woven copper mesh roll is generally 30m or 100 ft, customers can also cut according to the actual needs of the size.
The uses of copper wire mesh include RFI and EMI shielding, gasket, window screen, gas and liquid filtration, etc.
Copper Wire Mesh Specification
Mesh Count/Linear Inch
Wire Diameter(mm)
Aperture (mm)
Open Area %
4
1.2
5.15
65.8
5
1
4.08
64.5
6
0.71
3.52
69.2
8
0.5
2.67
70.7
10
0.5
2.04
64.5
12
0.45
1.66
61.5
14
0.4
1.41
60.4
16
0.3
1.28
65
18
0.25
1.16
67.6
20
0.25
1.02
64.5
30
0.21
0.64
57.1
40
0.19
0.45
50.2
50
0.15
0.36
50.1
60
0.15
0.27
40.7
70
0.13
0.232
40.8
80
0.12
0.197
39
90
0.11
0.172
37.2
100
0.1
0.154
37
110
0.09
0.141
37.2
120
0.09
0.122
33.2
130
0.07
0.125
41
140
0.07
0.111
37.6
150
0.06
0.109
41.5
160
0.06
0.098
38.1
180
0.053
0.088
41.6
200
0.05
0.077
36.7
(width of roll): 0.60m-2.9m